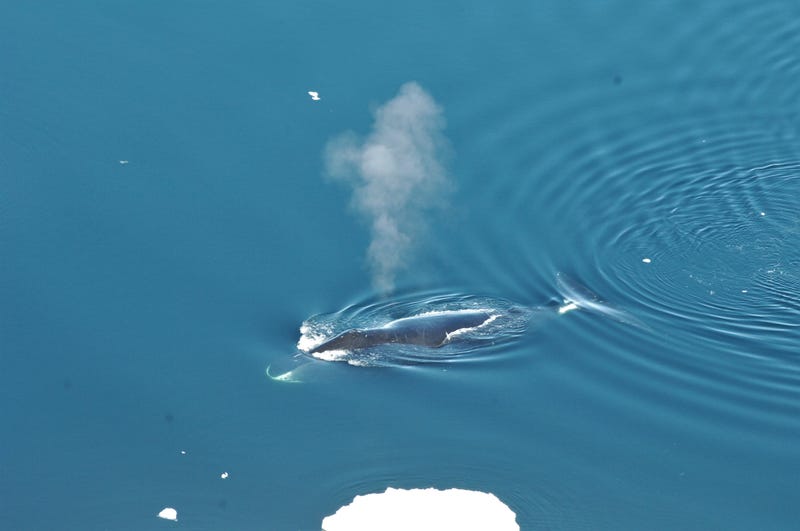 Bowhead whales have just been dubbed the jazz artists of the ocean, thanks to recordings of their non-stop, ever-changing serenade. Around 200 bowheads off the east coast of Greenland seem to be jamming all winter long, with the diversity of their singing "rivaled only by a few species of songbirds," according to the authors of a new study by the University of Washington.

"We were hoping when we put the hydrophone out that we might hear a few sounds," explained lead author Kate Stafford, an oceanographer at the UW's Applied Physics Laboratory. "What we heard was astonishing: Bowhead whales were singing loudly, 24 hours a day, from November until April. And they were singing many, many different songs."
Over the course of four winters, Stafford and her team counted 184 distinct songs. Unlike mating calls, which tend to be simple and repetitious, bowhead melodies are made up of complex, fluctuating musical phrases. What makes listening to these songs even more magical is imagining the setting where their sung: the pitch-black Artic ocean, under a thick layer of winter sea ice. I suggest starting the recording around the 40 second mark, as the first few seconds are a bit screechy.
It's not totally clear why the bowheads change their tune so frequently. Humpback whales, which have long been known as the ocean's top singers, tend to follow a more predictable pattern; a population of males will all sing a similar tune for most of the year, and then start new melodies every spring. The bowheads on the other hand appear to be much more into freestyling, seemingly improvising new songs all the time.

"If humpback whale song is like classical music, bowheads are jazz," said Stafford. "The sound is more freeform. And when we looked through four winters of acoustic data, not only were there never any song types repeated between years, but each season had a new set of songs."
Bowheads live exclusively in the Arctic, and can grow up to 60 feet in length, putting them among the largest animals on the planet. While the global population of bowheads is actually doing quite well (numbering over 10,000, according to the International Union for the Conservation of Nature), the Spitsbergen subspecies that Stafford and her team studied are critically endangered. In the 17th century there were over 24,000 of these whales off the coast of Greenland, but now there are just 200 lonely singers left.
"Bowheads are superlative animals: they can live 200 years, they've got the thickest blubber of any whale, the longest baleen, they can break through ice," said Stafford. "And you think: They've evolved to do all these amazing things. I don't know why they do this remarkable singing, but there must be a reason."